Board of Directors Executive Committee
Board Chair
Director, Global Public Policy, AT&T Services, Inc.
Board Vice Chair
Chair, DC Commission on Persons with Disabilities
Board Secretary
Partner, Wilkinson Barker Knauer LLP
Board Treasurer
UX Programs & Operations, Ads Accessibility Lead, Google
Board Committee Coordinator
User Experience Research Manager, Google
Board Marketing and Communications Coordinator
Manager, Public Policy, & Strategic Alliances, Verizon
"At AT&T, we understand that accessibility is more than a word; it's a commitment to connect people to the world around them. We also understand that we must go beyond mere accessibility to full inclusion and belonging.  Which is why we are proud to work with the World Institute on Disability to elevate and support people with disabilities globally."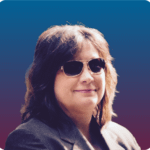 Susan Mazrui, Board Chair
Director, Global Public Policy, AT&T
"I am so honored to serve on a board of an organization fighting for the protection of people with disabilities on a global scale. Working with an international leader like Marcie Roth is a privilege."
Joyce Bender, Board member
CEO/Founder, Bender Consulting Services, Inc.

Founder and CEO of Bender Consulting Services & Bender Leadership Academy
Executive Vice President, Technology Diversity, Community and Sustainability, Wells Fargo
Founder, Director, and CEO of the Human Engineering Research Laboratories (HERL), University of Pittsburgh
Grassroots and Strategic Initiatives Director, American Council of Life Insurers (ACLI)
Chairman, Board of Trustees the Global UN Partnership for Inclusive Information and Communication Technologies (G3ICT)
Founder, MG Equity Consulting
Founder of the Initiative For National Growth Africa
Disability Market Advocate and Strategist
Advocacy Services Coordinator, Everybody Counts Inc
Vice President of Service Delivery, Aira
Human Resources Professional
Vice President Global Head of Accessibility, Atos
JD/MBA Candidate, University of Pennsylvania, Carey Law School and Wharton Business School
Principal Architect, Salesforce
CEO and Founder, Ruh Global IMPACT
Head of Fight For Right NGO | Ukraine
Senior Global Policy Counsel, ACT | The App Association
Global Marketing Leader, Amazon Web Services
EMEA Inclusion, Diversity & Equity Leader, Human Resources, Kyndryl
Board of Directors Emeritus Members
WID Co-Founder
"Z''l" is a posthumous Hebrew honorific term that stands for "zichronah livracha" meaning "of blessed memory."
Mother of WID Co-Founder, Ed Roberts