by Aishwarya Chouhan
On the 23rd of March, the Indian government imposed an abrupt nationwide lockdown to mitigate community transmission of the coronavirus. While prima facie the move seemed commendable, the unplanned lockdown came with unfair consequences for disabled people, especially the disabled daily-wage migrant workers. The announcement was made without any relief or shelter preparations for both disabled and migrant laborers, nor did it provide the laborers any buffer time for their trips back home through public transportation.
With an uncertain future in the foreign states in terms of livelihood, food affordability, and accessibility, the migrant workers started walking back hundreds of kilometers to their home states on foot. Historian Ramchandra Guha described this as the greatest manmade tragedy in India after its partition. Stories emerged of disabled migrants going back home on their hands, using assistive devices like canes, being carried by their relatives, or being stuck in cities without access to relief. The government's lack of preparation was also coupled with police violence against desperate laborers, including disabled workers, for violating the lockdown as they attempted to access food.
It took laborers weeks of misery before the central and state governments started providing Shramik trains (or workers' trains) and buses transporting migrant laborers back home. Shockingly, the laborers, left with no money, two months into the lockdown, were charged exorbitant amounts of money for the travel. The unaffordable travel was not the only problem – there were too few buses and trains, and the process of getting a train ticket was too complicated. As a result, thousands of laborers were left to continue walking home. The Supreme Court intervened, directing the governments to not charge the migrants for their travel and to provide them relief material during their trip – however, it was too little, too late. Additionally, there was no direction to deal with the disability-related needs of disabled migrants.
While the Indian government came up with "Comprehensive Disability Inclusive Guidelines" on 26th March, the guidelines neither addressed nor provided relief to the disabled migrant workers returning to their homes or who remained stuck in cities. The Indian state, thus, failed to fulfill its national and international obligation to provide equal protection and safety to all disabled people during humanitarian emergencies and natural disaster, as agreed to under Section 8 of Rights of Persons with Disabilities Act, 2016 and Article 11 of the United Nations Convention on the Rights of Persons with Disabilities, 2006.
Though the lockdown affected disabled people in general, from an intersectional lens, the traumatic experiences of disabled migrants have been more severe than the experiences of a nondisabled migrant laborer or a privileged disabled person. Sonia Arora, head of the NGO Devbhoomi Badhir Association, noted how neither the cops nor the government's relief teams understand the sign language used by people who are deaf. This meant many disabled migrant workers did not know about or gain access to relief material that a nondisabled migrant worker may have accessed. Compared to a privileged disabled person, the food and caregiving accessibility issues were more pronounced for disabled migrant workers, who lacked the resources to avail even basic relief.
There is a need for the Indian government and judiciary to acknowledge the needs of disabled migrant workers and to come up with specific measures to address their accessibility, mobility, and safety issues in the current COVID times. This way, the Indian state can not only move a step closer in fulfilling its national and international obligations for the disabled, but also fulfill its constitutional obligation of protecting the fundamental right to "Right to Life" of every person in India.
Links to documents referenced:
The Hindu: PM Modi announces 21-day lockdown as COVID-19 toll touches 12
Times of India: How COVID-19 Lockdown Has Hit Disabled People Hard
The Hindu: Migrant woes 'greatest manmade tragedy' in India since Partition: Ramchandra Guha
News 18 India: Faced with Lockdown, Disabled Man Covers 100km on Hand Cart to Reach Home in Jaunpur
India Times: No Way Out: Differently-Abled Migrant Worker To Walk 1,200 Km From Mumbai To MP On Foot & Cane
India.Com: Migrant Woman Sets Off With Disabled Son on Shoulders, Walks All The Way From Gujarat to Madhya Pradesh
News 18 India: 'Was Told to Take Rajdhani': With No Money, Disabled Man Yearns to Return to His Pregnant Wife in Bihar
The Hindu: Coronavirus lockdown | Don't charge migrant workers bus or train fare, says Supreme Court
BloombergQuint: Supreme Court On Migrants: Left It Too Late, Then Did Too Little
India's Rights of Persons with Disabilities Act, 2016
International Disability Alliance: Understanding The UN Convention On The Rights Of Persons With Disabilities
The Hindu BusinessLine: Covid-19: Implications for the disabled
---
About the author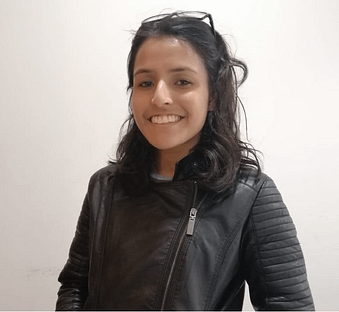 Aishwarya Chouhan is a lawyer based in India who is passionate about working on public policy matters from an interdisciplinary lens, especially concerning human rights. Through her independent empirical research project on "Women in the Indian Judiciary", and internships with NGOs and think tanks, she has engaged with discourse on issues affecting the Indian legal policy framework.
Link to Aishwarya Chouhan's LinkedIn page
---
Would you like to write a blog post about your COVID-19 experiences as a person with a disability or a disability-led organization? Submit a blog pitch via this form.
If you are having technical issues or accessibility issues on this site, email wid@wid.org.
Main content end