by Emma Alpern
For many stutterers, support groups are a source of community and empowerment outside of the world of corrective speech therapy. In meeting with other people who stutter — often for the first time — members experience conversation without fear of judgment from fluent speakers. During the COVID-19 pandemic, though, the alchemy of the support group has been disrupted. These in-person groups have been replaced with virtual gatherings, but the medium is not always comfortable for people who stutter, who often struggle to articulate themselves through technologies like Zoom and who are accustomed to in-person community building.
In 1977, a small cohort of people who stutter in San Francisco came together to found the National Stuttering Project (now the National Stuttering Association). The idea was simple: To create a space for stutterers to speak to each other in the spirit of mutual aid and self-help. The organization published a newsletter and other materials, its founders responded to letters and phone calls from stutterers, and its members protested ableist representations of stuttering in the media, but its central offerings were in-person conferences, workshops, and support groups.
These stuttering spaces hit a chord. Now, the organization has over 100 local chapters; other organizations, like FRIENDS, SAY (the Stuttering Association of the Young), and NYC Stutters, also host conferences and groups by and for people who stutter.
I am one of three chapter leaders for the Brooklyn chapter of the National Stuttering Association, a thriving group that has met in a room at the YWCA for the past decade or so. It's not a perfect room — the air conditioner is loud, and the door is glass, offering little privacy — but it's central, wheelchair accessible, and, for an hour and a half every month, ours.
Before the meetings start, people trickle in slowly, sometimes observing the room from the sidelines and sometimes striking up conversations with the person next to them. Afterwards, we usually head to a local bar for a drink. Bookending the intense discussions in our groups, which grapple with questions about family dynamics, the sometimes damaging effects of speech therapy, and employment (people who stutter earn about $7,000 less per year than people who do not stutter), these moments are when we experience the bliss of stuttered conversation with people who sound like us, a rare thing in a mostly fluent world. In April, we had our first meeting over Zoom, pausing our in-person meetings due to the coronavirus. These side conversations and opportunities for intimate or even casual moments of bonding have become largely unavailable in our video chat era.
Phones are another common topic in our meetings. Practically all stutterers despise speaking on the phone: the poor sound quality makes our stuttered speech less audible, and phone conversations don't allow for the non-verbal cues that many of us rely on. Maybe this is part of why our attendance during the pandemic has declined. Zoom, as one of my co-leaders put it, turns the laptop into "a stutter box … I sit in front of this box in my room alone, stuttering." Many of the qualities of in-person speaking that we enlist to help us through, like gestures and quieter sounds, fall out of the bounds of video chat technology. Meanwhile, as we stutter on camera, we are forced to confront our face as we stutter — an uncomfortable proposition for many of us.
And the technology itself is not reliably available to all of our members, who may not have an internet connection or computer literacy. Although I appreciate the increased access that virtual meetings offer to people who cannot make their way to Downtown Brooklyn, a number of our members have struggled to join our virtual meetings.
Like the original National Stuttering Project, the stuttering community works to offer not only in-person support groups, but also online forums, advocacy, and publications. But in rooms like the one at the YWCA, we've nurtured a speaking environment that's comfortable for people who find hostility and barriers in other conversations. In many ways, it's the heart of what we do. Until these spaces return, we'll have to make do with the stutter box.
Links to articles and sites referenced, in order of appearance:
Journal of Speech, Language, and Hearing Research; Stuttering and Labor Market Outcomes in the United States, by Hope Gerlach, Evan Totty, Anu Subramanian, and Patricia Zebrowski. July 13, 2018.
The Washington Post; For people with disabilities, doctors are not always healers, by Leana S. Wen. October 27, 2014.
The New York Times; Stutterer Speaks up in Class; His Professor Says Keep Quiet, by Richard Pérez-Peña. October 10, 2011.
Narratively; When You Talk Over My Stutter, You Steal My Voice, by Spring Kwok. February 19, 2018.
About the Author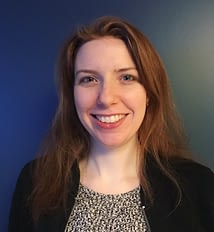 Emma Alpern is a copy editor and writer living in Brooklyn, New York. She has been a part of the stuttering community for about seven years, primarily through NYC Stutters and the National Stuttering Association. She's written about stuttering for The Atlantic, Eater, and Vice, and has a chapter in the 2019 book Stammering Pride and Prejudice.
---
Would you like to write a blog post about your COVID-19 experiences as a person with a disability or a disability-led organization? Submit a blog pitch via this form.
If you are having technical issues or accessibility issues on this site, email wid@wid.org.
Main content end