By Charlotte Stasio
Centering the stories of Black disabled people is essential to achieving our vision of a world in which people with disabilities live freely, where access, inclusion, equity, and resilience are embedded throughout every global community. We are proud to highlight Black disabled activists and advocates who are currently making waves in social justice. Here are 12 Black Disabled Activists and Advocates you need to be following.
Talila "TL" Lewis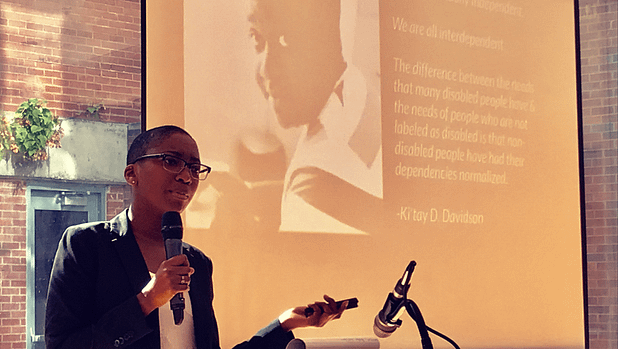 no gender pronouns; use Talila or TL
Twitter: https://twitter.com/talilalewis
Instagram: https://www.instagram.com/talilalewis/
Talila "TL" Lewis is a community attorney and organizer. TL self-describes as Black, queer and neuroqueer. TL is an abolitionist and leader for several impactful organizations including HEARD, which fights for the rights of prisoners who are Deaf and unites across identities, communities, movements, and borders to end ableism, racism, capitalism, and all other forms of oppression and violence.
Verton Banks
he/him
Twitter: https://twitter.com/VertonBanks
Instagram: https://www.instagram.com/vertonbanks/
Verton Banks is a queer autistic accomplished actor, writer, and rising activist. He recently posted about playing a role in the film "There is No 'I' in Sidekick," one of the 95 entries into the Easterseals Disability Film Challenge, in which he asked his growing following to "Please support authentic disabled representation in films." Verton also uses his social media platforms to share insight into how his life as an Autistic person and how he has changed over the years when it comes to speech, environmental stimuli, and relationships with others. He cites "Boyz n the Hood" director John Singleton as a major inspiration.
Danielle Oreoluwa Jinadu
She/her
Instagram: https://instagram.com/daniellejinadu?igshid=YmMyMTA2M2Y=
YouTube: https://www.youtube.com/watch?v=EHZGloapYio
Danielle Oreoluwa Jinadu is a fashion and style icon and advocate for people with disabilities – especially those with non-apparent disabilities. She was diagnosed with Sickle Cell Anemia early in life, experiencing multiple hospitalizations from the age of 5. Danielle speaks powerfully on the experience of people with Sickle Cell Anemia and how the conversation needs to change about this very common and potentially fatal genetic disease. She often emphasizes the importance of blood and organ donation and the intersections of being Black and disabled, including at her TEDx address entitled "The Big Black Blood Issue."
Shelby Lynch
She/her
Instagram: https://instagram.com/shelbykinsxo?igshid=YmMyMTA2M2Y=
Twitter: https://twitter.com/Shelbykinsxo
TikTok: https://www.tiktok.com/@shelbykinsxo?lang=en
Shelby Lynch is a model, designer, and content creator who advocates for anti-ableism, especially when it comes to educating children about disabilities in school (check out her Change.org petition on this initiative). Born with Spinal Muscular Dystrophy, Shelby is a rising star on TikTok with over 400,000 followers and counting. Her posts delve into how she lives and thrives with her disability. Shelby was recently featured on the cover of Glamour UK, with the quote "fashion is more than fun – it's an area of my life that I can actually control."
Neal Carter
he/him
Twitter: https://twitter.com/nealcarter?t=EwNz5nOYbYnMrxinwIYRjg&s=09
LinkedIn: https://www.linkedin.com/company/nu-view-productions-llc/about/
Founder of The Black Consultant Group and Principal of NuViewConsult, Neal Carter is a political consultant and champion of progressive policies. He identifies as a Black disabled man and uses Lofstrand canes and is a wheelchair user. Neal's work focuses on restorative justice and his organization seeks to elect and support candidates dedicated to fostering positive social change. His powerful article, What Hearing Police Sirens Means to Me as a Black Disabled Man, discusses the harm that encounters with law enforcement does to people who are Black and disabled.
Lauren "Lolo" Spencer
she/her
Instagram: https://instagram.com/itslololove?igshid=YmMyMTA2M2Y=
Twitter: https://twitter.com/itsLOLOlove
Facebook: https://www.facebook.com/SittingPrettyLolo/
Lauren "Lolo" Spencer is the founder of Live Solo, a lifestyle brand on a mission to create a new narrative for people with disabilities. A wheelchair user living with ALS, this influencer and content creator created the company to help young people with disabilities "guide their own independence." Lolo is also a model and renowned actress, with a high-profile role as Jocelyn on the popular HBO show "The Sex Lives of College Girls."
Jen White-Johnson
she/her/they/them
Instagram: https://www.instagram.com/jtknoxroxs/
Twitter: https://twitter.com/jtknoxroxs?t=Zt4kYQcBDqd8XYOGgqdvQA&s=09
Jen White-Johnson describes herself/themselves as a "Disabled AfroLatina" and "ADHD Artist and Educator of Disability" living with Graves Disease. As a parent of an autistic child, Jen became interested in the absence of Black disabled children in digital and print media and sought to change the narrative. Jen joyfully celebrates neurodiversity and fosters collaborations through her photo zine "KnoxRoxs" and many other projects. Their passionate voice and expertise is sought after by major brands such as Target, Nike, Amazon, and Converse. Jen is also the creator of "The Anti-Ableist Art Educators Manifesto." WID was proud to feature Jen as a panelist on our web series The Adjustable Table, where she discussed Disability Rights and Disability Justice.
Ola Ojewumi
Twitter: https://twitter.com/Olas_Truth?t=8h90D-fA6V8-ZKal_iaeJg&s=09
Instagram: https://www.instagram.com/olas_truth/
LinkedIn: https://www.linkedin.com/in/ola-ojewumi-09a08924/
Ola Ojewumi is a kidney and heart transplant and cancer survivor who became a wheelchair user at a young age. She is a disability lifestyle expert and the Founder of Project ASCEND, an education nonprofit providing college scholarships to low-income students. She is an influential political commentator, having appeared on numerous mainstream and independent news channels. Ola also founded the Sacred Hearts Children's Transplant Foundation, with a mission to improve the quality of life of children awaiting organ transplants.
Kayla Smith
she/her
Instagram: https://www.instagram.com/blackautistickayla/
Twitter: https://twitter.com/BeingKaylaSmith?t=z7V_vHtBdnwSXGgBgonBBg&s=09
TikTok: https://www.tiktok.com/@blackautistickayla
Creator of #AutisticBlackPride, Kayla Smith describes herself as a "Young Black Autistic Disability Justice Advocate" on her growing social media profiles. Kayla uses her platforms to discuss and explore the intersection of autism and race with her audience. She talks about representations of Black and autistic people in the media and the impact they have on our culture. Kayla also encourages her audience to learn about Black History and challenge their stereotypes.
Andraéa LaVant
she/her
Twitter: https://twitter.com/andraealavant?t=M4b23T1TunN2t3xIRZ50AQ&s=09
Instagram: https://www.instagram.com/andraealavant/
LinkedIn: https://www.linkedin.com/in/andraealavant/
Andraéa LaVant is the founder of LaVant Consulting, a social impact firm working to improve and accelerate Diversity, Equity and Inclusion (DEI) and disability initiatives with major companies around the world. Her firm was recently one of the official accessibility partners of the Grammy Awards where they provided production crew consultations. She is also an Impact Producer for Netflix's Oscar-nominated film Crip Camp, a powerful documentary about the emergence of a Disability Rights Movement at a summer camp in 1971. Andraéa continues to lead the conversation on empowering Black disabled people, stating on her website: "It's not about pity. We don't need your pity. What we need is your commitment to help build a better world." WID was proud to have Andraéa serve as the moderator for our Experiences of Black Disabled People During & After Disasters webinar.

Keith Jones
he/him
Instagram: https://www.instagram.com/dasoultoucha/
Twitter: https://twitter.com/dasoultoucha
Born with Cerebral Palsy, Keith Jones is a policy advocate, activist, poet, and musician dedicated to community empowerment. Alongside LeRoy Moore, he is the founder of Krip-Hop Nation, a transformative organization dedicated to shattering stereotypes about musicians with disabilities and creating opportunities for artists to succeed. Keith recently received a Sports Emmy Award for Outstanding Music Direction for his lyrical contributions to the score of the Netflix film "Rising Phoenix." Keith credits his tenacious family and experience with Centers for Independent Living as a source of inspiration.
Tatiana A. Lee
She/hers
Twitter: https://twitter.com/mstatilee?t=-l7AFPQ_97ccsmilZLpxyw&s=09
Instagram: https://www.instagram.com/mstatilee/
Tatiana A. Lee is a wheelchair user with Spina Bifida, who is an experienced and in-demand inclusion and accessibility consultant focused on illustrating disability as a critical element of diversity. She also helps to shape the portrayal of people with disabilities in the media through her roles as the Apple TV+ Accessibility Lead and consultant with RespectAbility. In addition to her advocacy and activism, Tatiana is an actor, model, and producer working across Hollywood and beyond. Tatiana had the opportunity to portray one of her heroines, performer and civil rights activist Lena Horne, in a recent photo project from CUR8ABLE CUR8TORS.