By Charlotte Stasio

There is a great deal of intersectionality between being LGBTQIA+ and disabled, with experiences like hiding an important part of your identity for your safety, discrimination, and social isolation often shared across these identities. In addition, cultural, institutional, and systemic factors make it more likely for LGBTQIA+ folks to have a disability. LGBTQIA+ disabled activists and advocates are shedding light on this intersectionality and using their platforms to provide a forum for others to fight for liberation. Here are 12 LGBTQIA+ disabled activists and advocates that you need to know.
Aaron Rose Philip (she/her)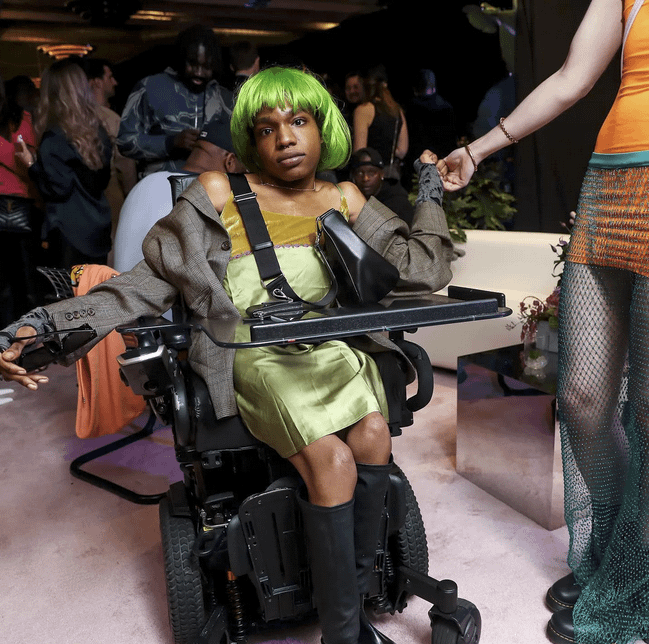 You may have seen Aaron Rose Philip on the WID blog before, but we would be remiss if we did not include her on this list! She is a proud queer trans woman born with cerebral palsy who uses a motorized wheelchair for mobility. Aaron is a fashion icon and highly successful model – featured both by couture designers and major clothing brands. She uses her social media channels to share her edgy sense of style and LGBTQIA+ activism with her considerable following. Aaron continues to build a strong network of folks with disabilities in the fashion industry.
SOCIALS
Instagram: @aaron___philip
TikTok: @aaronphilipxo
Twitter: @aaronphilipxo
Andrew Gurza (they/he)
Andrew Gurza is a Disability Awareness Consultant and the co-founder of Bump'n, an adult product company "for and by disabled people." They are shattering stereotypes by leading the conversation on celebrating positive and healthy sexuality for disabled LGBTQIA+ folks. Andrew is the host and creator of Disability After Dark, a podcast dedicated to highlighting disability stories that are often ignored – such as sexuality, queerness, racism, and representation in the media. They were the subject of the 2017 National Film Board of Canada Documentary Picture This and have been featured in many media outlets including BBC, CBC, Gay Times UK, Huffington Post, Everyday Feminism, Savage Love, and more. Andrew is the creator of the hashtag, #DisabledPeopleAreHot.
SOCIALS
Instagram: @itsgurza
TikTok: @thegurza
Twitter: @itsgurza
Podcast: Disability After Dark
Chella Man (he/him)
Chella Man is an innovative model, painter, performer, producer, and sculptor who identifies as "Deaf, trans, Jewish, and Chinese as well as determined, curious, and hopeful." Through his striking multimedia artwork, he explores how identity shapes worldviews and perceptions. Chella is an activist and speaker, sharing his insight on the intersection of disability, race, gender, and queerness across many public forums including TEDx, DC Public Library's Celebrating Pride, the Tamron Hall Show, and the keynote address at Penn State's Pride Month celebration. He recently published his first book, Continuum, which chronicles his journey through transition and arrival at self-acceptance.
SOCIALS
Instagram: @chellaman
TikTok: @chellamanart
Twitter: @chellamanart
Lady Francesca (she/her)
Lady Francesca is a member of the Drag Syndrome collective – described as a "drag collective featuring highly addictive queens and kings with Down-Syndrome." Lady Francesca and their fellow collective members deliver stunning performances to show audiences the incredible creativity and expression of folks with Down-Syndrome. The troupe has performed at Pride events and Ru Paul's Drag Con and have appeared on BBC, CBC, Vice and other outlets. Lady Francesca and the other members are regularly featured on Drag Syndrome's social media channels, showing off their amazing looks and celebrating the LGBTQIA+ disability community. She was recently featured on the cover of luxury printed fashion book dsection alongside collective member Justin Bond.
SOCIALS
Instagram: @dragsyndrome
TikTok: @dragsyndromeofficial
Twitter: @DragSyndrome
Leo B. Allanach (he/him)
Leo B. Allanach seeks to "create art that changes the way people think, elevates marginalized voices, and inspires others to action." Leo identifies as trans, queer, and a chronically-ill cane user. He turned to television and literature (especially sci-fi and fantasy) to cope with growing up in a hostile conservative environment. Leo now uses these interests to drive his passion to create art based around disability justice. He is passionate about upending the profit-driven entertainment industry and creating spaces that amplify the perspectives of marginalized populations.
SOCIALS
Instagram: @leo_allanach
Lydia X. Z. Brown (they/them/theirs/themself or no pronouns)
Lydia X. Z. Brown is a disabled, queer, and nonbinary Chinese-American recognized as a pioneer in disability and LGBTQIA+ advocacy. Lydia is an accomplished attorney, working with the Center for Democracy and Technology on technology bias and discrimination affecting disabled people. They also serve as Director of Policy, Advocacy, and External Affairs at the Autistic Women and Nonbinary Network. They are an educator, teaching classes on race, gender, disability, and neurodivergence at Georgetown University and American University. Lydia is the founder and leader of The Fund for Community Reparations for Autistic People of Color's Interdependence, Survival, and Empowerment and is co-editor of the anthology All the Weight of Our Dreams: On Living Racialized Autism. Lydia was honored as a Champion of Change by the Obama Whitehouse in 2013 and has been featured in the Huffington Post, Everyday Feminism, the Washington Post, Al Jazeera, Vanity Fair, Marie Claire, and many more.
SOCIALS
Twitter: @autistichoya
Website: lydiaxzbrown.com
Nasreen Alkhateeb (she/her)
Nasreen Alkhateeb is an award-winning visionary filmmaker focused on boosting the voices of underrepresented populations through her work. She draws from her identities as "BIPOC, multi-heritage, Black, Iraqi, Disabled, raised Muslim, and 1st Generation" to create her art and inspire audiences. Nasreen recently served as cinematographer for the Kamala Harris VP campaign and was a featured filmmaker at the 2021 Sundance Accessible Futures Initiative. She is a prominent speaker on disability and LGBTQIA+ advocacy in filmmaking, having been featured at Disney's The Power of Inclusion Summit, TED, NASA Women in Action, and many others.
SOCIALS
Instagram: @contentdirector
Twitter: @DirectorContent
Website: allmediastorytelling.com
Olu Niyi-Awosusi (they/them)
Olu Niyi-Awosusi describes themselves as an ethical technologist and accessibility advocate and identifies as "mad/disabled." They advocate for an online world that is relevant, useful, and inclusive of people with disabilities, access and functional needs, and/or those with limited access to technology. In addition to their technology-focused work, Olu also founded a mutual aid group aimed at providing gender identity-affirming clothing to the LGBTQIA+ community in the United Kingdom and beyond. According to Olu, their passion for ethics in technology was sparked through studying philosophy.
SOCIALS
Instagram: @oluoluoxenfree
TikTok: @oluonline
Twitter: @oluoluoxenfree
Rosie Jones (she/her)
Comedian, actress and author Rosie Jones is an LGBTQIA+ woman with cerebral palsy who lights up the screen and stage with her hilarious and cutting takes on many subjects. Through her appearances on UK television and beyond, Rosie has become a well-known example of positive representation of disabled folks in the media. She is a fierce advocate for accessibility, positive sexuality, and LGBTQIA+ rights for people with disabilities in her home country and around the world. Rosie recently announced she will soon have a sitcom called Disability Benefits. She was also named as one of the 100 DIVA Power List members, which celebrates trailblazing "LGBTQIA+ women and non-binary people across screen, music, and sports."
SOCIALS
Instagram: @josierones
Twitter: @josierones
Website: rosiejonescomedy.com
Roy Jones (he/him)
Roy Jones is the current president of The Rainbow Alliance for The Deaf (RAD), a nonprofit organization dedicated to fostering a thriving community and advocating for the rights of Deaf LGBTQIA+ people. Roy took the helm of the organization in 2020 following the resignation of the previous president amidst allegations of discrimination. Since then, Roy has articulated a new vision for RAD as a safe space for all members with an increased focus on accessibility at their conferences.
SOCIALS
Instagram: @rainbowallianceofthedeaf
Twitter: @RainbowADeaf
Spencer West (he/him)
At age 5, Spencer West had both legs amputated due to a genetic disease. He has since become a world-renowned public speaker and advocate, teaching diverse audiences how to harness the talents of disabled people and overcome seemingly impossible obstacles. Spencer uses his many platforms to discuss the intersection of queerness and disability, often answering audience questions and providing insight into his life as a disabled gay man with humor and grace. Spencer is the author of Standing Tall: My Journey, an intimate look into his life and its challenges and triumphs. In 2012, Spencer climbed to the top of Mount Kilimanjaro to raise money for a clean water program in his mission to "Redefine Possible."
SOCIALS
Instagram: @Spencer2TheWest
TikTok: @Spencer2TheWest
Twitter: @spencer2thewest
Stevie Boebi (she/her)
As a queer and disabled content creator, activist, and influencer, Stevie Boebi explores the intersection between being LGBTQIA+ and disabled on her many popular channels. She has a growing YouTube following, with nearly 750k subscribers tuning in to learn about healthy sexuality, thriving with a disability, and style advice. Growing up in a religious and conservative environment, she struggled with her sexuality until meeting friends in college who helped her to come out. Stevie also advocates for people who use mobility devices, are chronically ill, immunocompromised, or neurodivergent.
SOCIALS
Instagram: @stevieboebi
TikTok: @stevieboebi
Twitter: @stevieboebi
Celebrating LGBTQIA+ disabled leaders
The incredible people listed above are leaders in advocacy for disabled LGBTQIA+ individuals. Their bold, defiant voices remind the world of the importance of recognizing the intersectionality of being LGBTQIA+ and disabled. While it is important to celebrate these folks during Pride Month, we must remember to also celebrate and support them throughout the year as they redefine what is possible.
---
Charlotte Stasio is a Freelance Writer for WID.