Meet the Moderator, Guest Speaker and Panelists for GADRA's Experiences of Black Disabled People During & After Disasters: A Global Conversation event, on Thursday, February 18, 2021.
This free webinar will be one hour long, and will begin at 12 PM EST/5 PM UTC. Captions in English and International Sign will be provided.
Link to register to attend Experiences of Black Disabled People During & After Disasters: A Global Conversation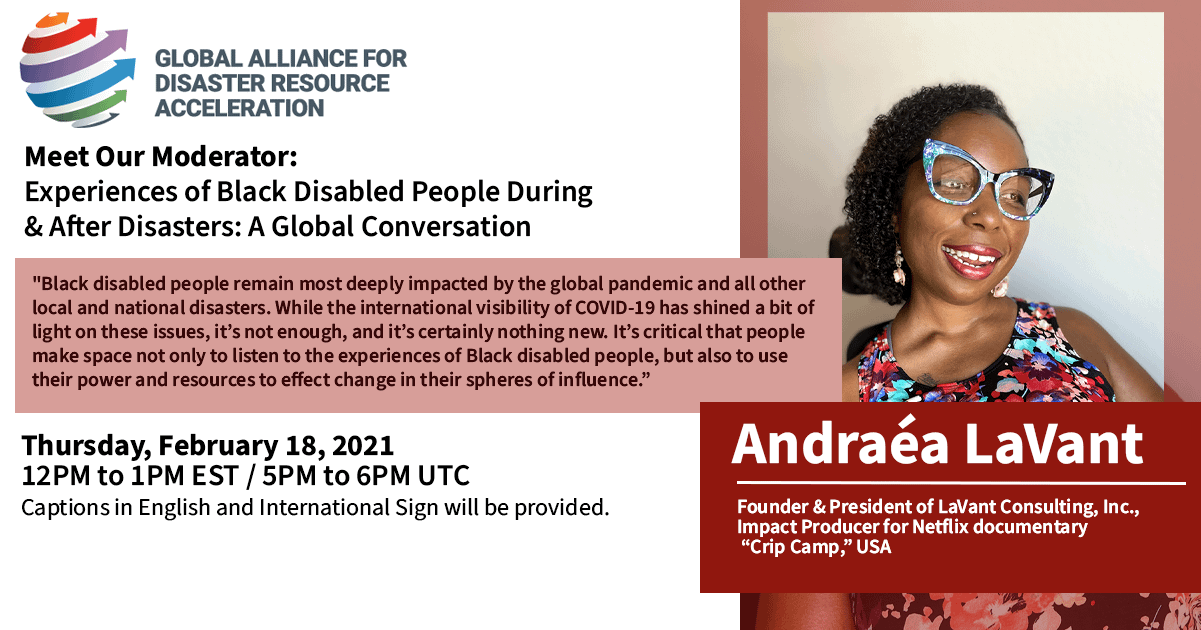 Andraéa is the founder and president of LaVant Consulting, Inc. (LCI), a social impact communications firm that offers cutting-edge corporate development and content marketing for brands and nonprofits. LCI's specialty is helping brands "speak disability with confidence."
As a communications consultant and inclusion specialist, Andraéa has over a decade of experience working with programs that support youth and adults with disabilities and other underserved populations. She currently serves as the impact producer for Netflix's feature-length documentary, Crip Camp, where she is charged with leading the campaign's efforts to promote understanding of disability as a social justice issue and build across lines of difference.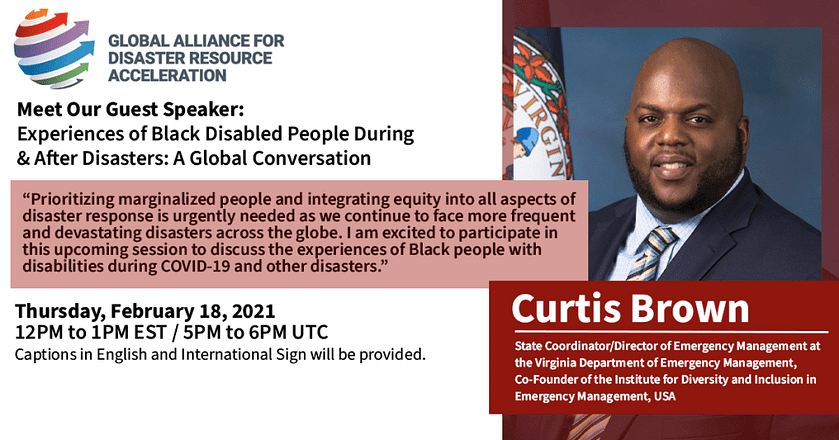 Curtis has homeland security and emergency management experience at the federal, state, and local levels. He currently serves as the State Coordinator (Director) of Emergency Management at the Virginia Department of Emergency Management (VDEM).
In 2018, he co-founded the Institute for Diversity and Inclusion in Emergency Management (I-DIEM) a non-profit organization dedicated to diversify the field of emergency management and promote the application of equitable practices to improve disaster outcomes and build community resilience for the most vulnerable communities. Curtis is recognized as a Certified Emergency Manager by the International Association of Emergency Managers. He serves on the Equitable Climate Resilience Advisory Panel for the Institute for Building Technology and Safety (IBTS) and FEMA's Mitigation Framework Leadership Group.
We are excited to announce Leroy F. Moore Jr. as one of our Black disabled panelists for GADRA's 'Experiences of Black Disabled People During & After Disasters: A Global Conversation' event which will take place on February 18!

Leroy F. Moore Jr., founder of Krip-Hop Nation has been a key member of Poor Magazine since the 1990's. Moore's work with Poor Magazine began with his column "Illin-N-Chillin." He went on to become a founding member of Poor Magazine's Homefulness and Decolonize Academy. Moore is also one of the founding members of National Black Disability and activist whose work centers around police brutality against people with disabilities. His cultural work includes the documentary film, "Where Is Hope: Police Brutality Against People with Disabilities," spoken-word CDs, poetry books and children's book, "Black Disabled Art History 101."
Yusuf is a high school literature teacher in Nigeria and Project Coordinator at the Special Needs Initiative for Growth, located in Northern Nigeria.

"Literature is a field that suits me so well, because it draws from social, economic and political events from across history and geography," he says.

Yusuf says. literature affords him the avenue to excel in understanding the world and explaining it to his students.

Yusuf started to get more involved with advocacy in 2019, during his year of national service, when he joined a Community Development Service group for Sustainable Development Goals.

Since being diagnosed with ADHD in her early 20's and living with mental health difficulties, Vivienne has run awareness sessions and advocated on platforms such as BBC, Mental Health Today and Mind. Isebor is a Trainee Clinical Associate in Psychology, currently studying part-time at UCL and working with individuals with Complex Emotion Needs in East London. She is also a founder of ADHD Babes – the first support group for Black Women and Black Non-binary people with ADHD, where she is the Director of Community Outreach and Wellbeing.

She says ADHD Babes is an example of the community coming together to fill gaps that services create through systematic racism and neglect. ADHD Babes focuses on Black women and Black non-binary people due to the combined challenges they face through the many parts of their living experience including: race, gender (including being gender non-confirming), disability and class.

"When we consider how difficult it is for women with ADHD to get support it is of great concern how marginalised Black women will be within the very same system. Creating this space has been a saving grace for me as an individual and a member of the community. We show up for ourselves each time to offer a safety away from the world that has shown us time and time again we do not matter. We are changing that narrative for ourselves and redefining what it means to be Black with ADHD," Isebor says.
Kaman is the Treasurer at PNG Assembly of Disabled Persons and Chairman at PNG Blind Union in Papua New Guinea. Kaman has facilitated systematic advocacy trainings on disability inclusion since 2018. During Kaman's trainings, people with disabilities gather to partake in formal and informal advocacy activities. Kaman also runs focus group discussions regarding topics such as utilizing mainstream media for advocacy.
"As a black person and as a person with disability, visual impairment, l observed that Covid 19 news was just a story in the media in Papua New Guinea until the government imposed the shutdown. The delay in getting the news digested into everyone's mind for awareness and preparedness was as a result of our multicultural practices and systems which made it difficult to process the vital information and news," Kaman says.
As a Black Disabled Lesbian, Anita has dealt with racisim, sexism, ableism, and homophobia – sometimes combinations of these. She has used her experience of discrimination and her unique intersectional perspective to promote understanding among different groups of disenfranchised people and increase social justice among those fighting for social justice.

Anita began working as Not Dead Yet's Director of Minority Outreach in January 2017. She has met with national and state policy makers and written persuasively about opposition to a public policy of assisted suicide from the perspective of communities of color who experience disparities in access to healthcare.
From 2004-2006, she worked at the American Association of People with Disabilities (AAPD) in Washington, DC, as the DC Metro Disability Vote Organizer. Anita also worked as Systems Advocate for the Center for Disability Rights in Rochester, NY, from 2006-2010.
Anita also serves on the National Disability Leadership Alliance's Steering Committee, as well as it's Racism Taskforce, and co-Chaired the Intersectional Justice Committee for ADAPT.
---
If you are having technical issues or accessibility issues on this site, email wid@wid.org.
Main content end