by Borbála Ivicsics
Hello, my name is Borbála Ivicsics, Bori for short. I live in Hungary, located in Central/Eastern Europe. I have been living with a physical disability my whole life, but I would say that I became a disability activist 4 years ago when I participated in a study session organised by ENIL (European Network of Independent Living). This was the first time when I learned of the different models of understanding disability; the medical and social models. In embracing the social model of disability, I realised that most of the barriers for persons with disabilities are built by society, this can be changed, and I want to change that! Since then, I have done a lot of different activities and eventually, another disability activist asked me to join him and his other fellows on a special project, FREEkey.
FREEkey is a new initiative, which aims to establish the Personal Assistance (PA) System in Hungary. Our name came from combining the two words Freedom and Key because our motto is "Personal Assistance is the key to freedom for persons with disabilities". Also, our name is pronounced like "Freaky", which is not a coincidence – we proudly confess our freakiness!

Personal Assistance (or Personal Care Attendance) is a support service which provides direct payment to persons with severe disabilities to be able to employ assistants, who help them with everyday tasks, allowing the disabled person to live an independent, self-determined life. This is important to us especially because the Hungarian social system operates a caregiving service that is not flexible and not available on a 24/7 basis; that is not controlled by the users and not based on their choices; and, that is dealing with disability as a medical condition instead of examining it from the perspective of support needs.
In 2019, FREEkey was awarded a grant from the American Jewish Joint Distribution Committee (JDC). FREEkey's two founders invited 8 people to work as a team on its first project. Some of our members employ assistants either from their own resources or on a voluntary basis. Other members are allies, who are academics in the field of Disability Studies. We believe that the power of our team is in the uniqueness and diversity of this cooperation: we equally value the lived experience and the expert knowledge, and make decisions together.
The COVID-19 pandemic has highlighted that independent living with personal assistance is safer for persons with disabilities than living in institutions or group homes. Also, the national healthcare system was overloaded by treating people with COVID-19, so people with chronic illnesses could not attend their regular doctor visits or medical treatment. We also saw that COVID-19 communications weren't accessible to everyone at the beginning. With the second wave of the pandemic, a new issue came to the disability community. The government introduced the lock-down regulations, which meant no one was allowed to go out from 8 p.m. until 5 a.m. without an employer's certificate. This made a barrier for persons with disabilities who have volunteer PAs. This was a problem for some of our FREEkey members too, which had to be solved.
Since we started working, we have achieved that Personal Assistance Service has been added to the Medium Term Measures of the National Disability Program in Hungary. We started a communication campaign to raise awareness on Personal Assistance. Thanks to the high resilience of the team, we successfully adapted our plans to the pandemic situation and started our awareness-raising and outreach campaign with a community video, later followed by a short video, depicting how life is with and without Personal Assistance.
Based on all the experiences that we gained within the last year, we are committed to continue the work on two levels: we want to further empower ourselves as FREEkey, and by getting stronger as a community, we want to continue our journey as a social enterprise that can provide Personal Assistance Services and function as a role model for further service development.
About the Author
Borbála Ivicsics (she, her) is a professional in disability inclusion from Hungary. She lives with disabilities and started in the field in 2016 when she was invited to participate in a study session organised by the European Network of Independent Living. She was a model at an accessible fashion campaign, her life-size fashion photos were exhibited in a shopping mall main hall in Budapest. Bori went to Scotland for a European Solidarity Corps program and researched the accessibility of the Scottish volunteer world. She is currently responsible for international communications for the FREEey team, which is a disability initiative working on implementing a Personal Assistance System in Hungary.
Twitter, LinkedIn, FREEkey's Facebook, FREEkey's Instagram, FREEkey's Youtube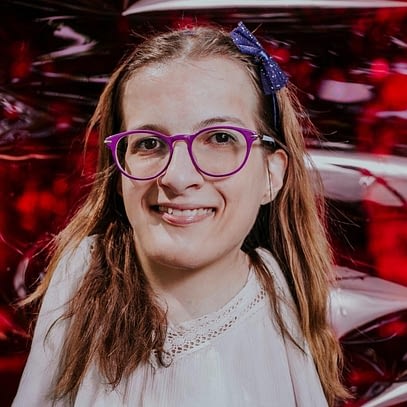 ---
Would you like to write a blog post about your COVID-19 experiences as a person with a disability or a disability-led organization? Submit a blog pitch via this form.
If you are having technical issues or accessibility issues on this site, email wid@wid.org.
Main content end