by Hannah Soyer
It's been well proven that mental health can take a dip during the winter months, especially around the holidays, which create atmospheres of pressure and high expectations among friends and family members. Sixty-four percent of people with mental illness report that the holidays "make their condition worse," according to a study published by the National Alliance on Mental Illness (NAMI), and the winter months are also contributors of Seasonal Affective Disorder (SAD). Winter SAD is caused by those downsides of winter: shorter days (less sunlight) and colder weather (less time spent outdoors). When coupled with the pressures of the holidays, the dark and cold months of November–February can feel extra dark, and extra cold.
For some people with disabilities, this winter holiday season may present the perfect storm for mental health struggles. Adults with disabilities report experiencing mental health issues nearly five times more frequently than adults without disabilities, according to the CDC. If we consider the ways the winter holidays may exacerbate mental health issues, and the changes to care routines for many disabled people that likely accompany the holidays, this time can feel especially fraught. The colder weather may also make it more difficult for disabled people to get outside, leading to more isolation and feelings of depression.
And then, of course, we're still living through the COVID-19 pandemic, which has been the cause of many mental health challenges.
Pandemic Woes
Last year's holidays differed greatly from the norm, and with positivity rates once again climbing, and the Omicron variant spreading across the globe, there are plenty of reasons to have anxiety and apprehension. A year ago, people were advised to keep family gatherings small or nonexistent and to maintain proper social distancing whenever possible. This has led to differing opinions and approaches to gatherings around the holidays, which can add to the already heightened stress of spending time with family and the pressures that come along with it.
The pandemic gave rise to social anxiety and internet addiction, both of which cause social isolation, the Medical Xpress reports. Also reported by Medical Xpress, 25 percent of US adults with anxiety or depression reported a lack of mental health support during the pandemic, and women were nearly twice as likely to report a lack of mental health support. A lot of this was caused specifically by increases in caregiving responsibilities, which speaks briefly to the ways the pandemic has disproportionately impacted certain marginalized groups, and circles back to people with disabilities who rely on care.
Disability and Mental Health
The COVID-19 pandemic has caused discrepancies in mental and emotional well-being, creating a cultural atmosphere where mental health is especially difficult for people most impacted, including frontline workers and high-risk individuals, such as those with underlying health conditions.
Of course, we can't paint the entire disability community in the same light, as we are not a monolith, and made up of individuals with every type of identity. Pandemic aside, people with disabilities having higher rates of mental health issues can mean their mental health issues are related to their disability, but it just as well might not be. This could come from both difficulties imposed by the disability, and difficulties imposed by trying to navigate a system that is not accessible to people with disabilities.
Taking Care of Yourself this Holiday Season
There are many resources to manage mental health and depression during the winter months. Here are some tips on how to cope during the winter months.
Allow yourself to rest. If you have specific needs related to disability or illness, this is even more important. When the holidays can feel like non-stop activity, it's crucial to prioritize time to relax and rejuvenate.
Talk to a professional. If you are looking for a mental healthcare professional who specializes in chronic illness or disability, Ayana Therapy, connects marginalized and intersectional individuals with therapists from similar communities. If therapy is financially inaccessible to you, some disability organizations such as CureSMA) provide vouchers for telehealth sessions.
Exercise, but rethink what exercise can mean. What are you able to do, and what feels good? Maybe this means light stretching, maybe this means small movements of your hands.
Communicate your needs and limits––to yourself, and to others. Make sure you're checking in with yourself, and be honest about what you realistically can do. It's okay to say no to things, healthy to set boundaries, and perfectly acceptable to need time to yourself.
---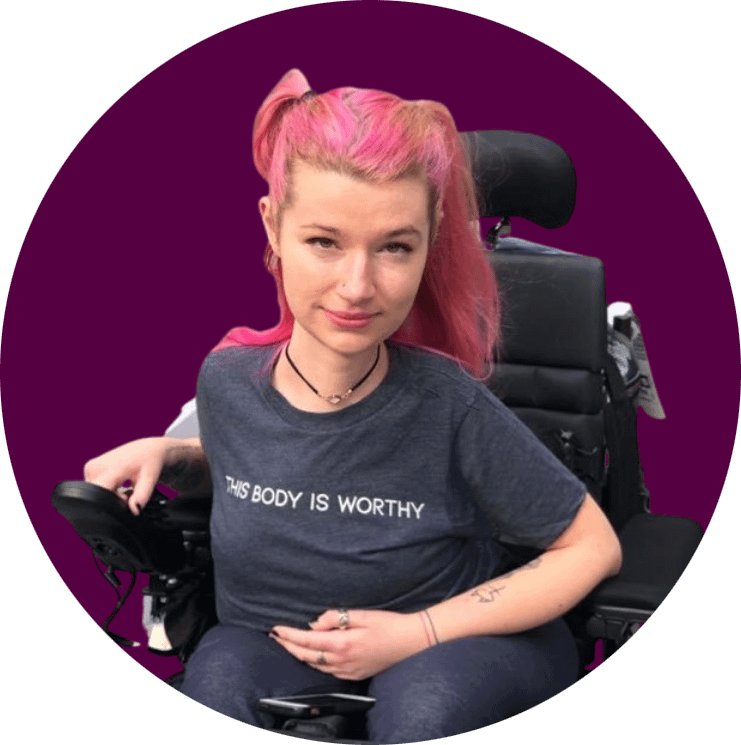 Hannah Soyer is a Freelance Writer for WID.