by Kat Zigmont
During the first week of January, I traveled to Las Vegas, NV to attend the Consumer Electronics Show (CES) as part of the Consumer Technology Association (CTA) Foundation's accessibility leaders cohort. We have the privilege of attending this fantastic showcase annually to see the latest and greatest product innovations that will improve the lives of both the aging and the disability community. I am honored to be the global cross-disability representative within our cohort, and I always make a point to explore the Eureka floor, where there are 174 countries represented. This year, 115,000 people attended, not counting the staff working the event. Accessible innovations were more present at CES 2023 than in any previous year I have attended. Below you will find my top five favorite innovations from CES 2023. However, there were so many more wonderful products, from over-the-counter hearing aids to stair-climbing wheelchairs to autonomous vehicles and everything in between!
XanderGlasses – Captions in Field of View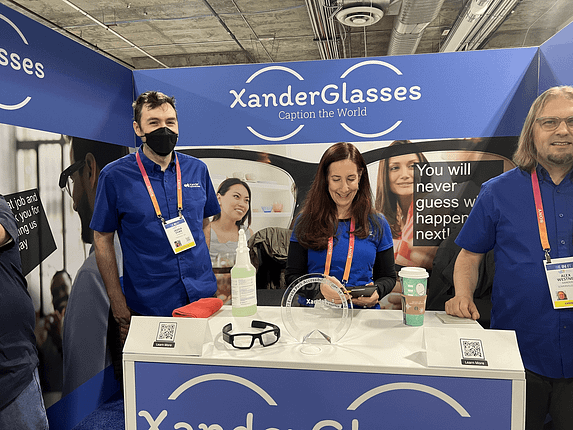 Boston-based startup Xander has developed glasses that place transparent captions of in-person conversations in the wearer's field of view. These glasses utilize a proprietary Automatic Speech Recognition (ASR) that they claim is 90% accurate. All of the technology required to use the real-time captioning is built into the glasses. This technology includes a touchpad, microphones, HD camera, battery, and charging port, which are all located on the arms of the glasses or behind the ear. The captions were a translucent augmented reality that color-coded each speaker and kept up well with the conversation. The XanderGlasses team is working on making the placement and size of the captions customizable for each user. Impressively, the glasses can also contain each user's eyeglasses prescription so that the product does not need to sit on top of other glasses.
I really liked the concept of this innovation, and I can see many use cases for people with hearing loss and other disabilities.
AutoTrainBrain – Brain Games for Neurodevelopment
In the Istanbul pavilion, a startup showcased their mobile application of brain games for people with learning disabilities. There are two pieces to this innovation: the first is the app that contains a variety of academic and neurodevelopment games, and the second is the neurofeedback headpiece that uses electrode technology to provide data about brain activity. The app analyzes the user's brain activity and customizes the games based on its findings. The company claims that utilizing this system for 10 to 30 minutes, twice a day for three days each week, should produce positive results in two weeks. The effects include improved reading comprehension (70%), reading speed improvement (45%), speech development (18%), socialization improvements (36%), cognitive activity development (41%), and attention development (50%). AutoTrainBrain is targeted toward those with learning disabilities, ADHD, anxiety, depression, Alzheimer's, brain fog, and, to a lesser degree, epilepsy and autism.
As a person with reading comprehension disabilities and dyslexia, I was excited to see non-traditional innovations that aim to improve and strengthen the brain function of those living with learning disabilities and brain deterioration disabilities.
Flowly – VR for Anxiety and Pain
Flowly is a system that utilizes a Virtual Reality (VR) headset powered by the user's personal phone, connected to a heart rate sensor. The platform is designed to take the collected biofeedback and provide custom psycho-education to improve anxiety and chronic pain. It primarily does this through breathing and guided meditation strategies that are presented within this VR environment, which shows the user their current heart rate and provides them with training activities to help develop the tools needed to manage their symptoms.
The representatives at the Flowly booth told me about their current efforts to get this system included in rehabilitation facilities for those dealing with the pain and anxiety of withdrawal from drug use. I can certainly see the potential benefits for that population and many others.
Braze Mobility – Echolocation Sensors for Your Electric Wheelchair
Braze Mobility has developed blind spot sensors that utilize echolocation technology. This sensor system can be attached to any wheelchair and enhances spatial awareness for the wheelchair user. The sensors will detect obstacles and proximity to walls or people, providing visual, audio, and/or haptic feedback. The feedback modalities and placement locations are customizable and can be purchased separately.
The ability to make any electric wheelchair into a 'smart' wheelchair that can avoid damage or injury to the user is a clever idea. In addition, utilizing echolocation instead of camera technology is an intelligent choice that enables durability at a lower cost point.
LG CLOi GuideBot – Customer Service Robot That Speaks Multiple Sign Languages
This year, LG generally had a good showing of accessibility. However, the CLOi GuideBot (pronounced "Chloe") was a particularly exciting product to see. This adorable robot serves as a customer service agent in spaces such as malls, airports, convention centers, museums, hospitals, and other public facilities. CLOi is programmed to assist in wayfinding, security, information services, and even food delivery. It speaks many languages, including multiple sign languages. The concept is that you can talk to CLOi in your native language, and it can identify and respond in the same language. It can even accompany you to your destination, potentially serving as a robotic sighted guide. It was refreshing to see intentional inclusion and accessible product innovation from a big company like LG.
---
Kat Zigmont is WID's Senior Director of Operations and Deputy Director.